SCSI Hard Disk Types Explained...
By Gavin Gration (in 2002)
Currently there are two main types of hard disks used in computer systems. IDE is perhaps the most common and is adequate for most tasks including low-end dual stream non-linear editing. New IDE disks are fast, reliable and relatively cheap when compared to SCSI disks. The main difference between the two types is the way in which the drives communicate with the host computer. Put simply, IDE drives are relatively "brainless". This means that the host computer has to constantly check to see what the drive is doing and feed it new instructions. SCSI disks have a much greater degree of self reliance due to having a powerful built-in controller. This means that the host computer can rely on the drive to do what it's told and while it gets on with other tasks. When you need very high sustainable data rates in a multitasking environment, SCSI drives will deliver the data consistently faster than IDE disks. This is why SCSI hard disks are preferred for Non-Linear Editing with high data rates.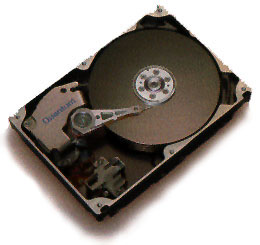 Individual SCSI drives can give very high sustainable data rates, and a modern single drive will quite happily deliver single stream uncompressed 4:2:2 video at a rate of just over 20m/s. Data rates of 15m/s, or around 1.3:1 compression ratio are usually considered to be acceptable for broadcast quality video editing. When you have two or more streams of video plus graphics, audio, etc, the demand for data from the hard disks is very high. The computer may request more data than an individual SCSI hard disk can reliably deliver. To spread the load multiple SCSI drives can be treated as one device, and this is sometimes referred to as a "striped set" or "RAID array".
SCSI has been around for a long time and has evolved from SCSI-I with a theoretical maximum data rate of 5m/s to the current level of SCSI-III with up to160m/s There also have been a number of different physical connectors and cables, some of which work with each other, but only when used in certain combinations. There are a few other devices which use SCSI interfaces including Scanners and CDRom Drives, so the following information is intended to help you better understand the various SCSI hard disk types and the connector plugs that are associated with them.
SCSI TYPES & DATA RATES

SCSI Type
Narrow (50 pin)
Wide (68 pin)

Ultra 320

320 MB/sec

Ultra 3 (or Ultra 160)

160 MB/sec

Ultra 2 (LVD)

80 MB/sec

Ultra

20 MB/sec

40 MB/sec

Fast

10 MB/sec

20 MB/sec

Standard

5 MB/sec
examples: Fast-Wide = 20 MB/sec, 50 pin Ultra = 20 MB/sec, Ultra2 Wide (U2W) = 80 MB/sec

EXTERNAL SCSI CONNECTORS

25 Pin 'D'

PC/MAC/AMIGA (Early SCSI-1)

50 Pin Centronics

(Narrow) SCSI-1

Half Pitch 50 Pin 'D'

(Narrow) SCSI-2

Half Pitch (H/P) 68 Pin 'D'

(Wide) SCSI-3

68 Pin VHDCI

(Wide) SCSI-5
STORAGE JARGON

SCSI

Small Computer Systems Interface

Pronounced "Scuzzy"

LVD

Low Voltage Differential

Allows much longer cable lengths than Single Ended

SCA

Single Connector Adapter (80 pin)

For Hot Swap SCSI Devices

VHDC

Very High Density Connector Interface

Space Saving Connector

RAID

Redundant Array of Inexpensive Devices

Uses multiple disks at once for either high data rates or security backup

FIBRE CHANNEL

Very Fast up to 7.3GBytes per second

Up to 126 Drives & 12 mile Cables!