Archive page -
for reference only

We currently supply Magewell
video capture cards & USB devices
Teradek - mobile HD video networking
Stream HD video wirelessly, direct from the camera, over a local network or across the internet


Teradek is a privately held R&D company offering a wide range of state-of-the-art networking video products. Teradek is located on southern California's Titanium Coast in Irvine, a hotbed of technology surrounded by top engineering schools and a healthy ecosystem of technology vendors.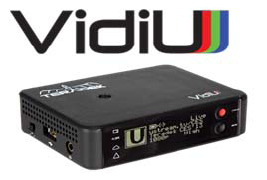 The Teradek VidiU gives you the freedom to broadcast live full HD video directly to the Web without a PC. Whether you're streaming out of a video switcher or wirelessly from your camera, VidiU allows you to go live when you want, where you want.
Live Streaming Without a PC
Ustream & Livestream Integration
Broadcast to any Streaming Platform
Go Live Anywhere Cable-Free
Stream to iOS Devices
FREE App allows remote monitoring and configuration via WiFi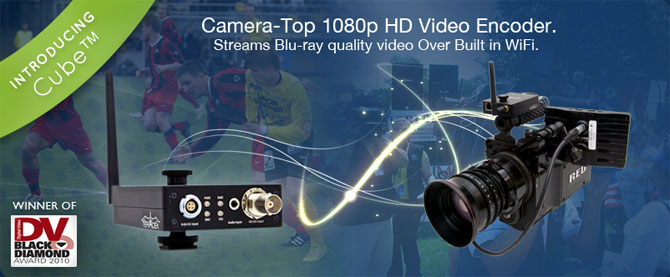 Teradek Cube™ - lightweight portable wireless HD video streaming
Cube™ Decoders
The Cube™ Decoder is a small, extremely low-power video decoder that pairs ideally with the Teradek Cube™ Encoder. They are designed for placement on small handheld monitors and large HD displays and feature either HDMI or HD-SDI output. Using a Cube™ Decoder eliminates the need for using a PC to receive and decode video.
Cubelets™ Encoder/Decoder Pair
Cube™ Encoder/Decoder pairing is the ideal solution for turnkey on-set video monitoring. Use the Cube™ Encoder to stream HD video over WiFi, then connect the Cube™ Decoder to a small hand-held monitor or a professional field monitor to receive the signal and view video up to 1080p24. Cube decoders are available in both HDMI and HD-SDI versions.
For news gathering the Encoder/Decoder pair allows broadcasters to disconnect from the ENG vehicle, eliminating the need for long cable runs, giving the advantage of freedom of movement to the journalist and cameraman for capturing the critical action.

Advanced Compression
Cube uses H.264 High Profile (Level 4.1) video compression, which is the most advanced compression algorithm in the world today, and it features a built-in scaler to convert from 1080 to 720, 480 or 240 resolutions. Users can choose a resolution and target bit rate based on the availability of IP bandwidth. Typical bit rates for HD are between 2-4Mbps, and SD bit rates are typically sub-1Mbps. Cube's end-to-end latency is approximately 1/8-1/2 second.*
Small Size
Cube is tiny (about the size of a pack of cards), uses only 2.5W of DC power, weighs about 200g, and mounts easily to a rail system, cage, hotshoe, or camera baseplate. Cube's line-of-sight WiFi range is approximately 300 feet when used with a high quality WiFi access point. Cube has been tested extensively with RED ONE**, Arri Alexa, Panavision Genesis, Canon 5Dii, Canon 7D, various handi-cams and more.
*Latency measured by independent third party testers. iPad's native video decoder adds approximately 10 seconds of latency. An RTP solution for iPad will be available shortly to eliminate the latency issue.

**Cube is not compatible with RED ONE's HDMI output as its output is non-standard. Cube works beautifully with RED ONE's HD-SDI output.
Note - all prices quoted on this site are UK pounds - ex VAT & delivery
Teradek VidiU
Price
VidiU - Consumer camera-top HDMI H264 Encoder
enquire
Teradek Cube encoders
Price
CUBE-105 1ch HD-SDI Encoder, wired ethernet output
enquire
CUBE-155 1ch HD-SDI Encoder, Built in 2.4G/5.8G WiFi, mic input, USB
CUBE-205 1ch HDMI Encoder, wired ethernet output
CUBE-255 1ch HDMI Encoder, Built in 2.4G/5.8G WiFi, mic input, USB
CUBE-555 1ch Composite Encoder, Built in 2.4G/5.8G WiFi, mic input, USB
Teradek Cube decoders
CUBE-305 1ch Decoder, SDI out, wired ethernet input
enquire
CUBE-355 1ch Decoder, SDI out, Built in 2.4G/5.8G WiFi, mic input, USB
CUBE-405 1ch Decoder, HDMI out, wired ethernet input
CUBE-455 1ch Decoder, HDMI out, Built in 2.4G/5.8G WiFi, mic input, USB
Teradek H264 Encoders
CLIP - Aerial Video Transmitter using H264 encoding
enquire
CLIPLET - Aerial Video Transmitter/Receiver set
SLICE HD-SDI H.264 encoder (includes MPEG-TS)
SLICE HD-SDI H.264 decoder
Teradek BOLT - Zero Delay Wireless Transmitter
BOLT Pro300 HD-SDI/HDMI Transmitter / Receiver Set (BOLT-930)
enquire
BOLT Pro300 HD-SDI/HDMI Receiver (BOLT-932)
BOLT Pro600 HD-SDI/HDMI Transmitter / Receiver Set (BOLT-960)
Teradek BOND - HD Streaming Over Multiple 3G & 4G Networks
BOND 3/4G Bonding Solution (Excludes CUBE and MPEG-TS Option)
enquire
Sputnik Linux exec s/w on USB, printed manual (Note : Download FOC)
Preconfigured Sputnik Server on Linux Mini Desktop PC
Preconfigured Sputnik Server on a Rack-Mount Linux PC
BASE Turnkey 1U RackMounted Sputnik Server & HDSDI Decoder
BOND II Integrated HDSDI Cellular Bonding Solution
Supports up to 6 Modems, includes MPEG-TS
LINK Mobile Bonded Cellular Hotspot
LINK V-Mount Mobile Bonded Cellular Hotspot
Optional software enhancements & accessories
CUBE MPEG-TS over IP (TCP or UDP) Software Licence
CUBE / BRIK ZiXi Licence
CUBE Remote Proxy Recording Licence (Instant Rushes) for CUBE100,120 & 150, and/or UDP Multicast Software Licence
enquire
CUBE cables & accessories
enquire