Note - all prices quoted on this site are UK pounds - ex VAT & delivery - no exports, UK delivery only
| | |
| --- | --- |
| The odds and ends page.... | Last updated: 17 April, 2019 |
...an assortment of audio, video & computer equipment, some used, some new, and all too good to throw away when someone might have a use for it.

Key -

NEW

AS-NEW

USED

BELONGS TO A CUSTOMER

Most items can be seen at our Manchester office (apart from.some Customer Items coded light blue)
Used Video Monitors for sale
| | | |
| --- | --- | --- |
| ITEM | DESCRIPTION | PRICE |
| | Sony 14" with cvbs, Y/C & YUV inputs, under/overscan, 4:3/16:9 - damaged but powers up - for spares/repairs | 10.00 |
| | Sony 14" with composite (2), Y/C & YUV inputs, underscan | 40.00 |
Computer-Video Stuff
ITEM
DESCRIPTION
PRICE

DV-Master

Fast DVMaster with Speed Razor v3.5 or 4.x edit s/w (for Windows NT4)

25.00

Blackmagic Video Recorder

USB2 device for recording H264 video files from analogue composite or YUV SD sources. Mac-only. Bought in error by a customer who thought it recorded HD and immediately returned it when he discovered his mistake.

89.00

Decklink HD

Used Blackmagic Decklink HD card. Requires 64bit PCI-X slot for HD, but for SD will work in a 32bit PCI slot. SDI/HDSDI in/out + S/PDIF out + RS422 9-pin VTR control
For use with Premiere Pro or Final Cut Pro
more from Blackmagic

60.00

Blackmagic UltraScope waveform displays/picture monitoring - previously used with Avid. In box with software CD and PCIe input card.

250.00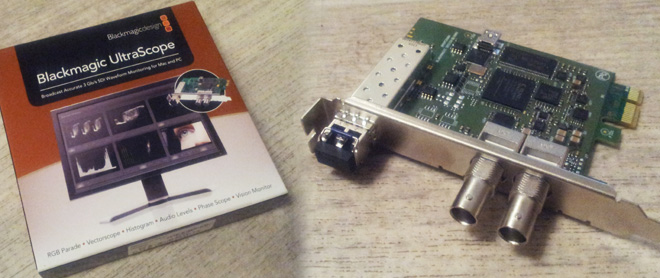 | | | |
| --- | --- | --- |
| Leitch / DPS Reality | Used dpsReality card & Breakout cable. Includes Reality/Velocity software, Inscriber TitleMotion (dongle) and two 73GB SCSI drives. | 200.00 |
| | |
| --- | --- |
| | |
AS NEW - Special Purchase

Magewell XI200XE Mini
Dual Channel HD capture cards

We have a number of these Magewell dual channel HD capture cards which have been made available by one of our customers who, as an OEM, had bought a hundred units, but has now changed their product design such that these cards are no longer suitable.


From the original batch, they think there are ~15 units left which are virtually unused, except for a short test, and they have asked us to sell them on their behalf.

The XI200XE-Mini is the predecessor of the Pro Capture Dual DVI card, with similar input capabilities. So two channels of SD/HD up to 1080p60, via either DVI, HDMI (with embedded stereo audio), VGA, YUV component or composite.

Adaptors are required for non-DVI sources (and not included), but for HDMI or VGA you can use the readily available back-to-back DVI-HDMI or DVI-VGA adapters which are often included with graphics cards, or you can use HDMI-DVI cables too. The DVI-YUV cables are available from Magewell and are the same as those for the Pro Capture models..

Price is 140.00 (GBP) each (+ VAT in the UK/EU) plus delivery, which is less than a third of the price of the current Pro Capture DVI version. We're offering a 3 month DOA warranty (by keeping a few cards back), or a refund if we run out. All cards will be tested by us (for HDMI capture) before shipping.

For the record, we've got a similar card, the XI204XE, which was our first card received early in 2013 and which lead us down the road to becoming a Magewell reseller. It's lived in our video editing PC (which also hosted VidBlaster) ever since, and is still working fine, which is a good sign :)



| | |
| --- | --- |
| Items remaining from a used Avid Edit Suite | Price (ex VAT) |
| Avid Keyboard (for PC, with PS/2 connector) | 30.00 |
| Sony SLV-SE840 VHS deck | offers |
| Sony RDR-GX210 DVD recorder | offers |
| Audio & video cables - various | offers |
Acer 1714 - 3.4GHz P4 Laptop with 17" LCD desktop performance in a mobile form factor

Acer Aspire 1714SMi Laptop with WindowsXP. As new condition. Bought for demonstrating Avid Xpress & Premiere Pro at trade shows but otherwise virtually unused.
It's got a big 17" LCD screen running at 1280x1024 from an Nvidia 5700 chipset with 128MB RAM and a full spec 3.4GHz Pentium 4. It also has S-Video TV out from which you can get a full-screen version of Premiere or Avid's video preview window.
The system RAM is 1GB (2x512MB), but could be swapped for 2x1GB. Likewise, the 120GB hard disk is a full size 3.5" unit (not the normal 2.5"), so it too could be swapped for anything up to a 500GB unit. On top of that, it's got a DVD writer, two 1394 firewire ports, both gigabit and wireless ethernet and lots of USB2 ports. Complete with original box & accessories. The replacement models aren't as upgradeable because they've gone back to using 2.5" disks to keep the size down.

Price - 120.00
Used DPS PVR Perception with SDI (very rare!)

Old but tested/working complete PAL PVR system in 4U rack-mount case. Includes base PC with WinNT4, SCSI 'P'-drive, PVR3500, Antex Studiocard (audio) and DPS SDI I/O card for PVR. Will split. (PVR3500 80.00, Antex 40.00, SDI for PVR 150.00)

Price - 150.00 complete
Used PAG MC2 4-way NiCad Battery Charger for sale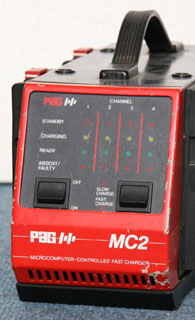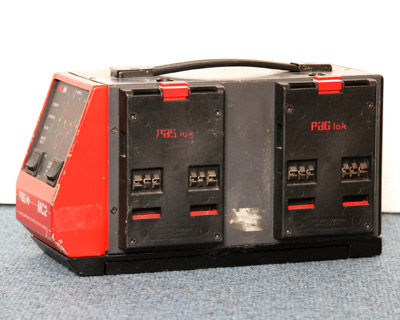 Old but tested/working PAG battery charger for PAGLok camera batteries. Fully automatic with microprocessor control. Will charge all PAG NiCad batteries up to 14V (and others - eg battery belts) Slow and fast charge modes. Standby, Charging, Ready and Absent/Faulty status display for each battery connected.
Price - 20.00
19" Equipment Racks
Used Light duty 17U rack for sale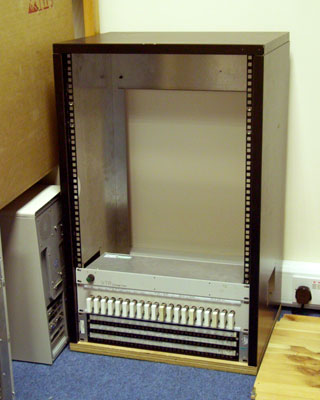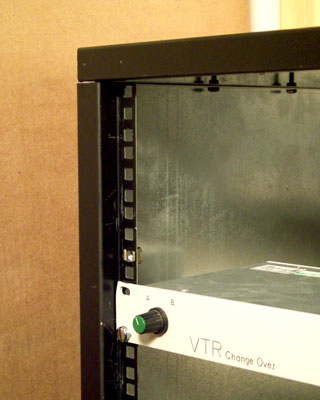 Height 850mm, depth 400mm. Folded steel construction with a wooden base. Ideal for lighter/shallower rack equipment like patch-bays and effects units. That said, it's still quite heavy and would require collection. (Pictured equipment is not included)
Price - 20.00
Used Audio equipment for sale
Used BBC style PPMs for sale


We have sometimes have audio PPMs available, usually in rack-mount boxes, and can help install and set them up in any edit environment. As a long-time PPM user and devotee, Martin can advise you on most PPM-related matters. We currently have the non-BBC scale (nordic?) PPM meter pictured right, featuring twin level meters plus a LED phase meter in a 2U rack mount case.
Prices - from £140
Pair of PPMs (M/S & A/B) - £200
Pair of M/S + A/B stereo Sifam BBC-style PPM meters and AM 20/4 drive cards taken from a CALREC mixing desk.
VGC. Untested since removal but were working fine.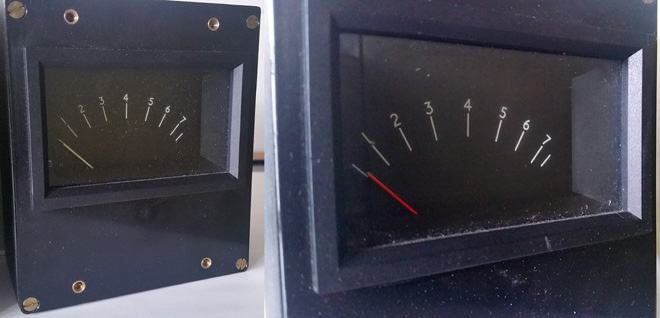 Used PSC DV Pro Mix 3 stereo portable audio mixer for sale


Professional Sound Corporation DV Pro Mix 3 stereo audio mixer. Three mic/line inputs (all on XLRs), main output on 2x XLRs (switchable to mic or line level), headphone out on 3.5mm mini- jack . Mic inputs have three-position gain switch for Line, Dynamic mic & Condenser mic levels, P48 Phantom Power on/off, bass roll-off (at 20, 80 or 150Hz), and L/R/Centre pan switch. Includes tape return i/p on mini-jack with Direct/Tape selector switch and headphone volume on the front panel. Bright LED L/R level meters. Powered by two 9V PP3 batteries. Includes protective shoulder bag & strap (although not the one shown).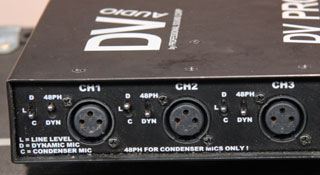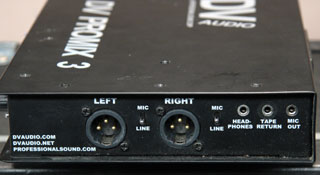 Price - 270.00 (Not currently available)
Used Audio 2020 UHF Ch69 Diversity Radio Mic for sale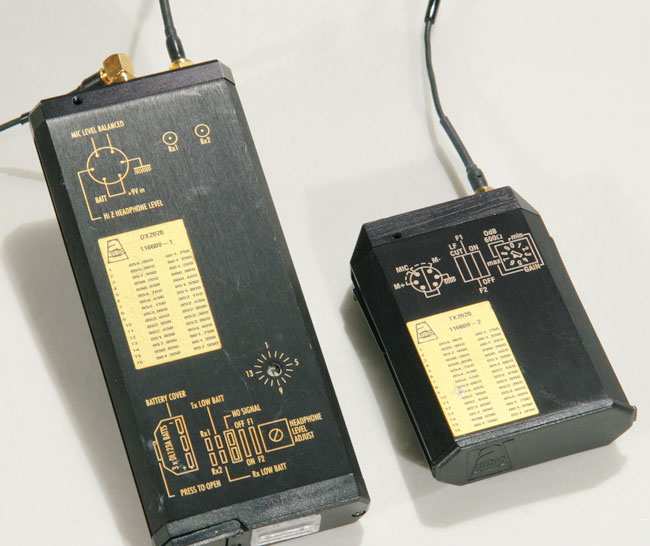 Audio TX/DX 2020 UHF diversity radio mic transmitter & receiver pair on Ch69. Industry standard broadcast-quality radio mic. Little used and in very good condition (apart from slightly kinked TX aerial - it only takes one person leaning back on it a few times!). Includes output cable and can include a used Tram microphone at extra cost.
Price - 400.00
Video Monitors
SONY PVM-1444QM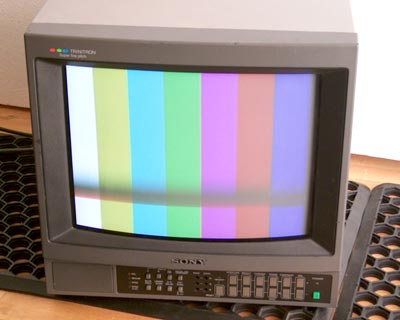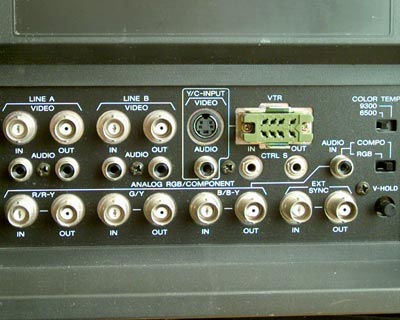 Sony PVM 1444QM 14" Professional monitor with composite (x2), Y/C & component (YUV or RGB) video inputs, plus audio. Trinitron tube, Underscan, PAL/NTSC, external sync, etc. (NB was working but now is not powering up)
Various customers' items
none of these items are available to view at our Manchester office - they are held by the respective customers

Note - all prices quoted on this site are UK pounds - ex VAT & delivery - no exports, UK delivery only
2.5% surcharge on Credit & Company Debit Card payments

All "Car Boot" items are effectively "sold as seen" and are not sold with either the manufacturer's warranty
or our normal warranty unless explicitly stated. Inspection/collection is recommended (at our Manchester office),
and you are welcome to perform any reasonable test before buying.
All sales are final - this is a Car Boot Sale after all!
For a full selection of used broadcast equipment, try


" I've been a regular contributor to user groups and technical forums for the last 20 years or so, and have written hundreds of posts offering advice and information on a whole range of computer, audio & video production topics."