Product Notes & News
Magewell Pro Convert hardware NDI encoders
Create NDI routing switchers in any size from 6in-2out up to 20in-24out

BirdDog Studio NDI encoders available from ZEN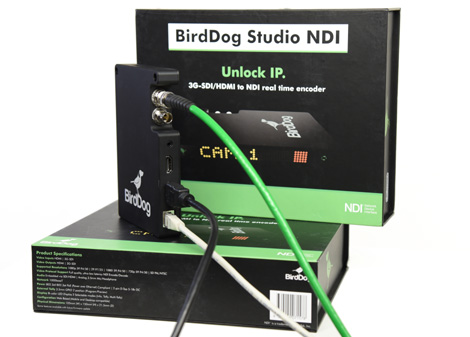 Pro Capture HDMI 4K Plus LT (includes Loop Thru output)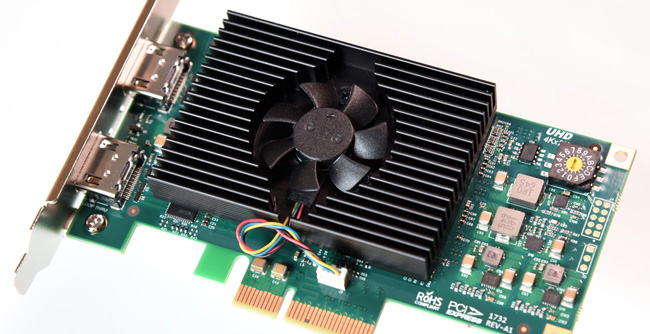 4K versions of the Magewell USB Capture Plus

Colour Gradient Background generator for NDI

Magewell USB Capture Plus

Adding to the existing Plug-&-Play USB Capture range (the HDMI & SDI dongles), the new USB Capture Plus video capture devices are available in three different versions.

HDMI - with loop through & analogue audio I/O
SDI - with loop through & analogue audio I/O
DVI - with breakout cable & analogue audio I/O

Like the existing dongles, the new Magewell devices continue to work in Plug-&-Play mode, ensuring simple driver-less operation and compatibility with a wide range of host software applications. However, a software utility allows control over the video settings in a manner similar to the Pro Capture cards.

These products are now shipping, and were officially launched on Magewell's booth at ISE 2017 in Amsterdam, which ran from 7-10th Feb at the RAI.

HDMI & SDI versions include pass-through ports

For Magewell pricing, see the Magewell page
ZEN and Magewell at IBC 2016 - Amsterdam RAI 9-13 September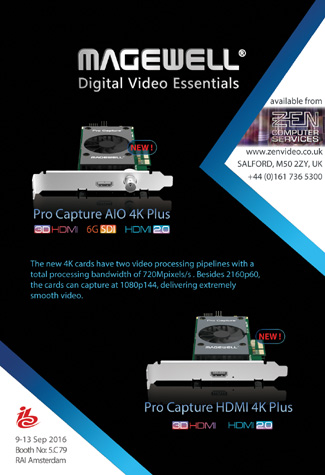 Martin will be in Amsterdam for the IBC 2016 exhibition and can be found (for much of the time) on Magewell's booth C79 in Hall 5 (that's at the northern end of the complex, to the right as you enter via the main entrances)
The Magewell booth will feature the new 4K cards along with the rest of the product range of PCIe and USB3 video capture devices.
There will also be a demonstration of NDI, using a Quad input Pro Capture card to ingest multiple HD input signals and transmit them to a second PC via NDI.
NOTE: The ZEN office in Salford will be closed for the duration of IBC in September.
Magewell Pro Capture 4K cards

Adding to the existing Pro Capture range, and sharing the same common driver, the new 4K cards are available in four versions.

HDMI - up to 4K at up to 30fps
AIO - SDI & HDMI at 30 fps
HDMI Plus - up to 4K at 60fps
AOI Plus - 6G SDI (4Kp30) & HDMI up to 4Kp60

Magewell cards offer different features to Blackmagic, who typically only support broadcast video resolutions and have limited on-board processing, whereas Magewell are aiming at other markets as well, where computer output needs to be captured (at other resolutions - eg 2560x1440) and streaming applications, where one input might need to be recorded and streamed at different resolutions. The Magewell cards can supply multiple different sized streams to different host applications simultaneously, unlike the Blackmagic cards.

All-In-One (AIO) & HDMI-only versions

For Magewell pricing, see the Magewell page
Magewell USB3 Video Capture Dongle re-engineered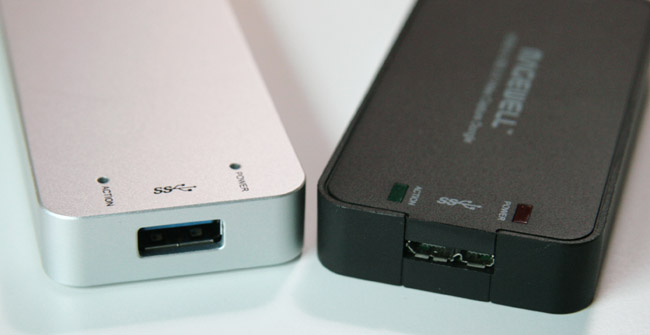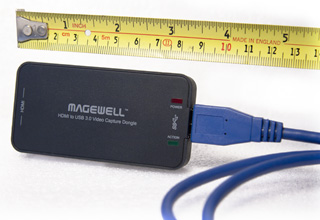 This versatile pocket-sized USB3 video & audio capture device for Windows (or Mac), available in two versions with either HD-SDI or HDMI input, has been re-engineered into a robust metal case (pictured above-left) with a larger USB3 connecter, replacing the original plastic-cased version (on the right)
It will auto-detect the video resolution and, in the case of the HDMI version, accept a wide range of graphics card output sizes as well as regular broadcast video resolutions, either SD or HD, with stereo audio.
It requires no drivers to be installed, as it emulates a standard webcam and uses the default Microsoft drivers, making it suitable for use with any streaming or capture software designed to allow a webcam for input. Embedded audio is also supported and appears as a standard Windows audio recording device. More from Magewell
Shaune Harrison Make-up Academy

We have an exciting new neighbour, co-located in the same building as ZEN. Specialising in prosthetics for film & television, the make-up academy will run a range of courses including:-

Basic prosthetics & bald caps
Casualty FX & wounds
Sculpting & life casting
Prosthetics & make-up SFX

Shaune is a highly experienced proponent of prosthetics, having worked on films like Star Wars Ep1, Captain America, The DaVinci Code, World War Z, The Fifth Element, Sleepy Hollow, Stardust, The Mummy and the Harry Potter series.

For more information, see shauneharrisonacademy.com

at 3B Quays Reach (upstairs from ZEN)
Blackmagic Pocket Cinema Camera

Live web streaming support services for small-scale events and webinars
ZEN Computer Services are launching a new back-end service to support live web streaming for smaller-scale events, product launches, training sessions, and suchlike. The service is aimed at video production companies and videographers with little or no prior experience of web streaming who have been asked to provide such a service as an add-on to existing video coverage.
At its simplest level, ZEN will provide the encoding equipment and operator, and provide quality-control monitoring of the stream during transmission.
The supporting services can be extended to include audio mixing and software vision mixing, allowing multiple cameras to be used, along with caption overlays and vision inserts from virtual VTRs. Whilst not intended as a replacement for a full OB, the system allows many of the same elements to be included in a live web broadcast, operated from a desktop PC, at a relatively modest cost.
Final details and rate card are still being worked on, but please phone or email if this is of interest
Panasonic AG-AF101 test shoot - interview footage

On 10th Dec '10, Martin was invited to an open day at Holdan, who are distributors for the AF101, the PAL-world version of the AF100. It afforded a chance to see this new camera and perform some hands-on tests.

Martin took the opportunity to shoot an interview with Richard Payne of Holdan talking about what Panasonic have given us with the AG-AF101, the new micro four-thirds video camera which records to AVCHD files from a single, large format sensor. The lens used was a Zeiss Distagon Compact Prime 35mm T2, with lighting from an LED panel for the key, plus tungsten fill, back and background lighting. Sound was from a 416 short gun mic on a stand, plugged directly into the camera.

An interview shot with, and talking about, the AG-AF101 camera


Panasonic AG-AF101 test footage in HD, from Martin Kay on Vimeo

Encoded 1280x720, so best viewed Full Screen on the Vimeo site, in HD

also available on YouTube in 1920x1080 HD - Click Here

Martin's comments:-
In use, the camera is not unlike Panasonic's other handi-cams (the 151 & 171) in many ways, but without the need to switch all the lens functions into manual mode, should that be the way you like to work. Since this was shot at an open day, in a relatively small space with other people present, there was not time for me to fully explore every feature and option that the camera has to offer, but I did want to take some footage away with me that was a little more meaningful than just pointing the camera at whatever was around me, lit only by the standard fluorescent house lighting. I hope this video gives some flavour as to the image quality of which this camera is capable when combined with quality lenses.
Part of the team at the IOV VideoSkills Roadshows

This year Martin has been one of the trainers at the IOV Videoskills Roadshows, aimed at helping videographers improve their basic skills. In the course of the day the topics covered include lighting, sound, camerawork and editing, with a two-handed interview as the sample subject matter. This is the resulting video from the Naas event.
Shot on a Canon XF305 and recorded in their 50MB/s 4:2:2 MPEG2 "BBC-approved" compression format. Edited in Premiere CS5. Lit with Kinoflo Diva 400 and Dedolights, and recorded on a 416 mic on a boom, connected directly to the XF305 camcorder.

The last VideoSkills Roadshow was on 10th Nov in Naas, Ireland


IOV Videoskills Roadshow - Naas in HD, from Martin Kay on Vimeo

Encoded 1280x720, so best viewed Full Screen on the Vimeo site, in HD
Lighting in modern office buildings

Inspired by the techniques shown at the IOV Videoskills Roadshows, in this short video Martin talks about, and demonstrates, the benefits of using lighting when filming in modern office buildings. With modern cameras able to get a well exposed picture in fairly low light, it's easy to forget what a difference lighting can make.

Click on image to enlarge

The changing face of Manchester

Those of you who have bought systems from us in the last few years may be familiar with our "Manchester Skyline" Windows wallpaper image (left) taken in January 2003 (from outside our old premises in Salford Quays). There has been a huge increase in residential building in the city since then, including the Beetham Tower, so we thought we'd offer an updated image from Summer 2006 (right).
Looking back at Caption Generation ...
The art of better sound - when to say "No" (article on the support page)
For some people, their experience of recording sound starts with making wedding videos or recording other live events. As a sound recordist, youíre there to capture whatever is happening, as best you can. Getting better sound under those conditions usually involves better equipment, or making better use of what youíve already got. But not all shoots are like that, and itís easy to fall into the trap of thinking thatís the only way of working. What Iím saying is that whenever you can have any control over your environment, you should try to make use of it.

A Matrox RTX2-based editing system with dual 23" LCD PC & TV monitors
Note - all prices quoted on this site are UK pounds - ex VAT
Production Services from DV2Broadcast
Sound Recording, Lighting, Audio Dubbing
Picture Grading, Broadcast Mastering and more...
Here at ZEN we have successfully used AVG Anti Virus for many years on our PCs, and can definitely recommend it!