Magewell

In case youíve never heard of Magewell, they are a Chinese company from Nanjing specialising in video capture cards. Of course thereís lots of little-known companies in Asia that make video capture cards, often aimed at the CCTV market, many of which donít work with applications like VidBlaster or vMix, so you might wonder what makes Magewell different?

Their primary market is AudioVisual and Streaming, so their products are designed to have DirectShow drivers for Windows, making them a natural fit with OBS, vMix, VidBlaster, Wirecast, XSplit and many other applications too.
The Magewell USB Capture Plus range - DVI - HDMI - SDI, plus 4K versions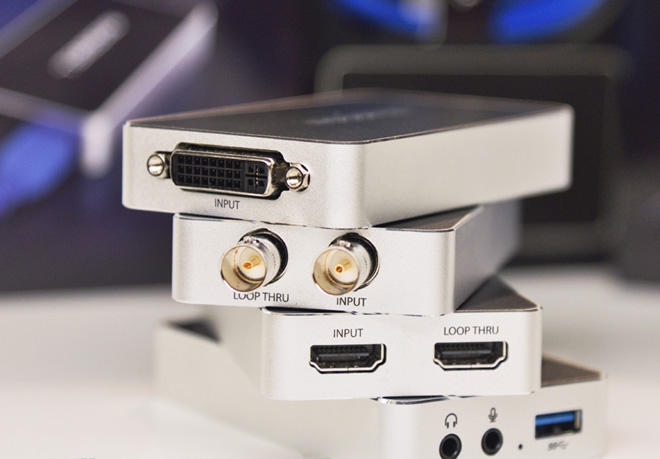 HDMI & SDI versions feature Loop Thru connections, plus there's a multi-format DVI model too (which can take VGA, HDMI and analogue/YUV via a breakout cable). The new devices are in addition to the standard 32060/70 capture dongles, now in Gen-2 form, rather than directly replacing them. USB3 Capture Plus 4K versions have started shipping too, in 6G SDI & HDMI 2.0 versions.
There's a wide range of PCIe cards and USB3 video capture devices available from Magewell, from single input to multi-input, SD to 4K resolutions, and with connections that include analogue composite or YUV component, VGA, DVI, HDMI and SDI/HDSDI. Many of the devices have analogue audio inputs, and in the case of HDMI & SDI connections, support embedded digital audio (up to 8 channels on the Pro Capture cards).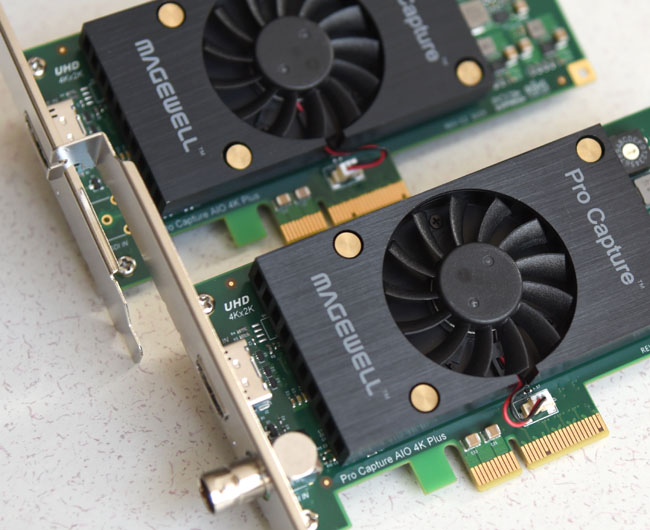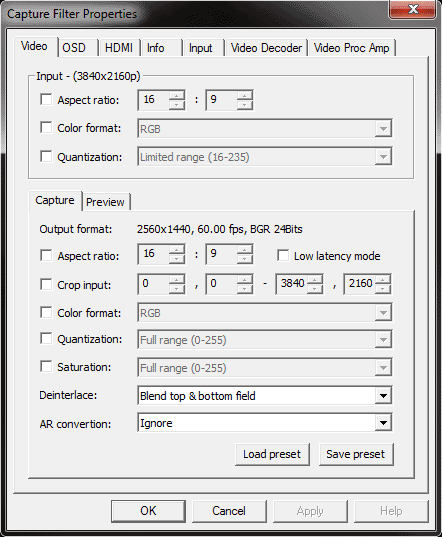 All of these PCIe cards and standard-sized USB3 boxes employ Magewell drivers which include an enhanced DirectShow Properties panel (Pro Capture version pictured above). Itís here that you can select the input source on devices which have multiple connection options per channel, but you donít always have to do that because the driver software will try to auto-detect the input thatís being used (unlike Blackmagic cards). The other useful settings include some proc-amp controls for colour adjustment, de-interlacing and dealing with aspect ratio conversion.
The video above looks mainly at the XI204 hybrid PCIe card, and includes details of the settings available via the Properties panel. Towards the end it also shows the XI006AUSB external USB3 box with six SD inputs connected.
---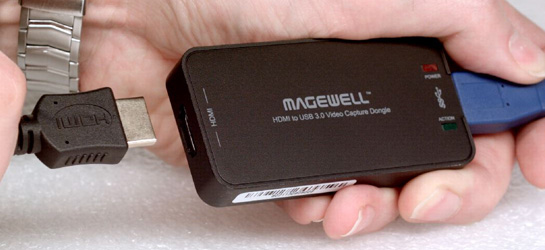 The Magewell USB3 Dongles

If you want a device that's highly portable, yet easy to use, the pocket-sized 32060/32070 USB3 Capture Dongles are available in two versions, one with HD-SDI and the other with an HDMI input. More than one dongle can be connected to the same PC, and there's no drivers to install, which is useful if you need to use them on multiple machines - especially when they belong to other people who don't allow additional driver software to be installed on their systems. They're compatible with a wide variety of USB3 host controllers, including those found on motherboards with the Intel Ivy Bridge & Haswell chipsets.

You'll notice that the way the video input appears under Windows is as an Imaging Device, just like a webcam. This is unlike many video capture devices which appear as Sound, Video & Game Controllers. This is significant because some video software is primarily designed to accept input from webcams and may not accept video from other types of device. In the Device Manager Properties panel, you will see that the Magewell USB3 Dongle uses the default Microsoft driver. This means it will always work with any Windows application that expects the input to be from a webcam. That includes things like Skype, Zoom, Teams, Google Plus Hangouts, OBS, VidBlaster, vMix and many more.

As for the audio, the USB3 dongle shows up in the list of Windows Recording Devices, and will decode standard stereo audio that's embedded in the HDMI feed. In other words, simple uncompressed PCM stereo audio - it can't deal with things like Dolby stereo or surround sound encoding.
The Magewell dongle is capable of capturing computer video output. When it's connected to a graphics card output, it appears to Windows like a multi-standard monitor, offering a wide range of PC & broadcast video resolutions & frame rates. This makes it quite easy to duplicate most resolutions used by the main display, whenever this is required.
If you donít have a USB3 port available, it's worth mentioning that the Magewell dongle will work in a limited way when connected to a USB2 port. Of course you'll only get full resolution and frame rate if you use a USB3 port, because the reduced bandwidth that's available from a USB2 port is insufficient for full frame rate at higher resolutions. Sometimes that's less of a limitation than it may first appear. For example, you may want to capture the slides from a Powerpoint presentation, you want them in HD, but they don't actually change very quickly. In this case, capturing at a lower frame rate whilst still maintaining HD resolution is probably quite an acceptable compromise.
Alternatively, you might have a camera source that you need to stream, which only outputs full HD at 1080, and you need 30 frames per second to avoid jerky movement. Without compression, 1080 at 30frames per second generates more data than a USB2 bus can handle, but if you're only streaming at a much lower resolution, like 640 by 360, you can take advantage of the fact that the dongle will scale the video before it sends it over the USB bus, so setting the device output to 640x360, even though it has been scaled from a 1080 source, will actually work over a USB2 connection.
Gen-2 versions of the USB Capture devices are physically similar, with the same metal case but, inside, the circuitry resembles the Capture Plus models, with additional features over the Gen-1 which include control over cropping, image flip/mirror, aspect ratio conversion and extra de-interlacing options.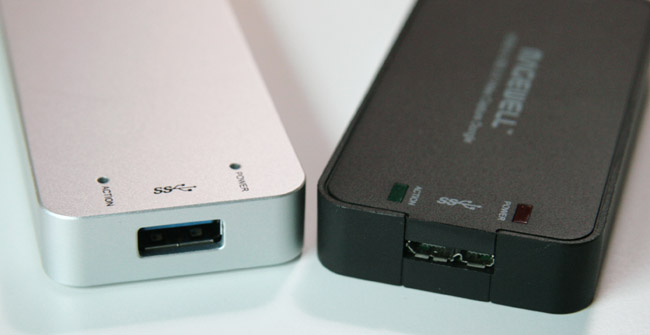 Dongles now feature a robust metal case with a larger USB3 connector than in the original plastic-cased version
Common Applications
Web Video content production - ideal for use with VidBlaster or vMix software vision mixer & production systems
Internet Broadcasting
Multimedia Presentations
Video Conferencing
News Delivery
Telemedicine
Video Email
Encoding Services
Business TV
Training
All prices are subject to change at short notice
The current Covid-19 emergency measures have had a subsequent effect on currency exchange rates and, whilst we hope to be able to maintain these prices, no-one can really predict what may happen next... * Martin - March-2020 *
Magewell Video Capture Products (updated May-2021)

List Price

Pro Capture family - Gen-2 PCIe cards

11040 Magewell Pro Capture - (single) HDMI input - Gen-2 PCIe card
196.00
11080 Magewell Pro Capture - Dual HDMI inputs - 4x PCIe card
392.00
11100 Magewell Pro Capture - Quad HDMI inputs
- 4x lane PCIe card

Supports PC graphics & broadcast video resolutions up to 1080p60, with up to 8-Ch embedded audio

706.00

Magewell + vMix 4K bundle

vMix HD switching/streaming/recording software for PC, together with a Magewell Pro Capture Quad HDMI input PCIe card (requires 4-lane slot)
Other bundles available - please enquire

1,125.00
11050 Magewell Pro Capture - (single) HD SDI input - PCIe card
196.00
11060 Magewell Pro Capture - Dual HD SDI inputs - 4x PCIe card
392.00
11090 Magewell Pro Capture - Quad HD SDI inputs
- 4x lane PCIe card

Supports 3G HD-SDI (type A & B) with embedded audio

706.00
11030 Magewell Pro Capture DVI - DVI/VGA/HDMI and YUV analogue component video input

(plus stereo analogue audio)

261.00
11070 Magewell Pro Capture - Dual DVI/VGA/HDMI and YUV analogue component video inputs
- 4x lane PCIe card

Plus embedded audio when using HDMI.

511.00
11020 Magewell Pro Capture - AIO (All In One) multi-connector single channel video capture card

Can accept SDI/HDMI/DVI/VGA plus analogue YUV component, Y/C and composite video
plus embedded SDI/HDMI and analogue audio

352.00
11110 Magewell Pro Capture - mini PCIe card - HDMI, with breakout cable
196.00
11130 Magewell Pro Capture - mini PCIe card - SDI, with breakout cable
196.00
11250 Magewell Pro Capture Hexa - 6 channels of SD composite video + stereo audio via included breakout cable (BNC + 2x phono per channel). Replaces the XI006AE "Gen-1" card
336.00

Eco Capture M.2 cards

11510/11514 Magewell Eco Capture - M2 card - Dual HDMI, with breakout cables
274.00
11520/11524 Magewell Eco Capture - M2 card - HDMI 4K, with breakout cable
274.00
11530 Magewell Eco Capture - M2 card - Dual SDI, with breakout cables
274.00
11540 Magewell Eco Capture - M2 card - Quad SDI, with breakout cables
493.00

Pro Capture 4K cards

As well as 4K & UHD, these cards can capture at 2560x1440 at up to 12bit colour depth and YUV 4:4:4 sampling (for game capture).

11152 Magewell Pro Capture - HDMI 4K Plus LT - as above, + Loop Thru o/p
706.00
11260 Magewell Pro Capture - Dual HDMI 4K Plus LT, dual channel 4K
1,412.00
11140 Magewell Pro Capture - AIO 4K Plus - up to 60fps, HDMI 2.0 + 6G SDI
721.00
* 11160 Magewell Pro Capture - DVI 4K - up to 30fps, DVI/HDMI *
399.00
* 11170 Magewell Pro Capture - AIO 4K - up to 30fps, HDMI + 6G SDI *
431.00
11180 Magewell Pro Capture - SDI 4K Plus - up to 60fps, Quad 3G or Dual 6G or 12G SDI
706.00
11270 Magewell Pro Capture - Dual SDI 4K Plus
1,412.00
* Limited availability (with MOQ 20-off) on these End-of-Life items


USB3 devices

32110 USB Capture AIO - Single channel, multi-input, inc HD-SDI, HDMI/DVI/VGA/YUV/composite + audio connections - external USB3 box (This is the "Gen-2" replacement for the 20171 Magewell XI100XUSB-Pro/PNP)
407.00
* 20181 Magewell XI200XUSB - Dual HD via HDMI/DVI/VGA/YUV - ext USB3 box
POA
20191 Magewell XI006AUSB - Six channel composite SD A/V - external USB3 box
POA
* 20111 Magewell XI104XUSB - 1x HD multi-input, HDMI/DVI/VGA/YUV/composite, 4x SD A/V connections - external USB3 box
POA
32060 & 70 Magewell USB3 Capture Dongle - single channel, HDMI or SDI version (aka XI100DUSB)

UVC driverless design, featuring hardware scaling, inputs up to 1080p60 and embedded audio. Perfect for use with Skype, Zoom,Teams, and many more applications.
- read more above

232.00


32040 & 50 Magewell USB Capture Plus - enhanced USB3 capture dongles with video loop-thru and audio I/O. Available in two versions, 32040-HDMI & 32050-SDI (pictured)
280.00

32080 Magewell USB Capture Plus DVI - driverless USB3 capture dongle. Can capture DVI, HDMI, VGA or analogue video, plus analogue audio I/O.
328.00

32090 & 100 Magewell USB Capture Plus 4K - enhanced USB3 capture dongles with video loop-thru and audio I/O. Available in two versions, 32090 with HDMI 2.0 & 32100 with 6G SDI
367.00

NOTE:

Flex I/O cards

Flex I/O 4i2o Multi I/O card with 4x inputs & 2x outputs - available TBA - in either HDMI or HD-SDI versions
(1,020.00)

Pro Convert hardware NDI encoders and decoders

64010 Magewell Pro Convert HDMI 4K Plus

799.00
buy online

64020 Magewell Pro Convert HDMI Plus (HD)

399.00

64030 Magewell Pro Convert SDI 4K Plus

719.00
buy online

64040 Magewell Pro Convert SDI Plus (HD)

399.00
buy online

64050 Magewell Pro Convert TX HDMI (HD NDI encoder)

319.00
buy online

64060 Magewell Pro Convert TX SDI (HD NDI encoder)

Similar functionality to the SDI Plus version, but without the SDI loop-thru.

319.00

64090 Magewell Pro Convert 12G SDI 4K Plus

799.00

64210 Magewell Pro Convert for NDI to AIO

351.00

64100 Magewell Pro Convert RX NDI to HDMI

319.00

64150 Magewell Pro Convert RX NDI to SDI

319.00

64130 Magewell Pro Convert RX H.26x to HDMI

303.00

64113 Magewell Pro Convert RX NDI to HDMI 4K

799.00

64143 Magewell Pro Convert RX H.26x to HDMI 4K

719.00

53010 Magewell Ultra Stream HDMI


Standalone streaming & recording box, controlled by mobile phone monitor/control app and WebGUI. HDMI input and loop-thru. Recording via USB.

255.00

53020 Magewell Ultra Stream SDI


Standalone streaming & recording box, as per the HDMI version but with 3G SDI In & loop-thru on BNCs.

319.00

53040 Magewell Ultra Encoder HDMI


Metal boxed standalone streaming/encoding unit, higher bit-rates than the UltraStream, including the addition of SRT & NDI|HX encoding, but without the phone app or internal recording.

319.00

53050 Magewell Ultra Encoder SDI


Standalone streaming/encoding box, as per the HDMI Ultra Encoder but with 3G SDI In & loop-thru on BNCs.

351.00


Gen-1 cards

* Limited availability (with MOQ 25-off) on these Gen-1 items
* Magewell XI204XE multi-input capture card. Dual SD/HD which can take SD/HD video or PC graphics card output via HDMI/DVI/VGA/YUV/composite connections + Quad SD composite video + dual 2ch analogue audio + audio over HDMI - all in a 4-lane PCIe card (as reviewed in the video further up the page)
POA
MOQ 25-off
Magewell XI006AE - Six channel composite SD video + audio - 1x PCIe card - replaced by Pro capture Hexa (above)
(336.00)
Lead time for most non stock items is typically 3-4 days (except MOQ items).

Please enquire for quantity discounts

Capture Express is a free download from Magewell which can capture H264 .mp4 files from all Magewell devices