WebStreaming - and live video production
"I can help to guide you along the learning curve" - writes Martin Kay

Working out what you need in order to set up for live video production can be quite a daunting task, not to mention the operational techniques that will be required to use it. What I mean by "live video production" is any sort of live transmission (typically over the internet these days), or video recording, that comprises more than a single source. In other words, anything that goes beyond recording direct onto a camera, or transmitting the direct output of a single camera. The "live" element is the switching and combining of multiple feeds, either from cameras, pre-recorded video playback, text-based captions, graphics & computer output and other remote feeds. At one time this would have required a fully-manned purpose-built TV studio or Outside Broadcast unit, but these days the entry-level hardware requirements are far more modest, and a surprising amount can be achieved by a single operator.

Finding the balance between hardware and software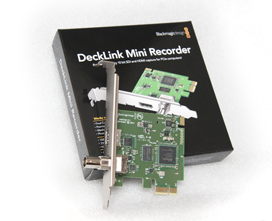 Hardware will usually only do what it does when you buy it, so the argument goes, but software is far more more versatile and can be continually updated to provide improved features. Computers have changed the face of broadcasting in so many ways, and the benefits have certainly filtered down to all levels of video production, giving lower-budget users functionality that was once the exclusive domain of the TV networks. But it would be a mistake to think that computers are the answer to everything production-related, and that it's just a matter of finding the right app. Handling multiple streams of video in real-time, particularly at HD resolutions and frame rates, is not something you should expect to do on every laptop (yet), for example, and is one reason why there is still a place for some dedicated hardware. Off-loading the tasks which require the most "brute-force" to external hardware will leave the computer with more resources to do the things it's good at, one of which is providing a highly customisable work surface from which to control everything. But that in itself is another reason why there's still a place for hardware. There's only so much that can be done with one pair of hands using a keyboard and a mouse, or even a touch-screen. And not every task lends itself to these sorts of controls.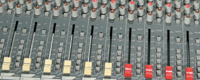 Live audio mixing is a prime example of something for which hardware still offers a very effective solution. A row of sliding faders offers a tactile multi-finger user interface which is hard to beat at a practical level. Also, audio equipment generally is now at a fairly mature stage in it's development, with the possible exception of radio transceiver units, and any investment in things like good quality microphones, headphones and mixers is unlikely result in the same sort of rapid obsolescence as experienced with other electronic items like computers, phones, TVs and cameras. As such, buying used equipment is a perfectly viable option, and most of my personal professional audio kit was either bought new 20+ years ago, or has been bought as used items (mainly from ebay) more recently.

VidBlaster and vMix - a video production control room in software
Note - all prices quoted on this site are UK pounds - ex VAT & delivery
Magewell Video Capture Products

Prices here
Full range of Magewell video capture & conversion products available.

Lead time for non stock items is typically 3-4 days.

Please enquire for quantity discounts